14 Boho and Hippie Chic Styles
1. The Boho Chic Clothing Style
The evolvement of the Boho chic style went through different stages. First, we had the Gypsy, bohemian style with their colorful natural based cloth, which became heavily influenced by the Flower-power Hippie epoch of the 70´s. In the 90´s and 2000´s, the boho chic was exposed to different styles. Once it was the grunch look, then it was called heroin chic (Sunday Times 2007) or retro-hippie-shabby – chic (National Geographic 2003). One unnamed student writer referred once to the style as "paying to look poor". Some of the most important ambassadors of the style were Laura Ashley, American fashion designer, French actress Charlotte Gainsbourg , Sienna Miller, Kate Moss and the Olsen twins.
Today, the Boho Chic style presents itself somewhat more prestigious and also is worn by celebrities. It still stands for natural feeling, comfortable cloth and casual, free lifestyle. The loose-fitting, flowy cloth are often worn in layers and whimsical embroidery art, colorful patterns and prints are making up the look. The styles are manifold, which are considered as boho-chic, just naming a few styles, such as ethnic, tribal, Indian and Ibiza style.
Accessories and Jewelry are probably the most important elements of the Boho Chic style.
2. Casual Layered Necklaces for the typical Bohemian Style and Hippie Look
Layered necklaces are one of the trademarks of the hippie chic style. Most of them are casual and are made of natural strands, seeds and beads. Colors are an important part of the colorful patchwork style cloth. Boho Chic necklaces are set up with more precious materials.
How to wear Boho Chic Layered Necklaces:
Check out the photos below, they exemplify the styles. Shorter necklaces and chokers are combined with longer necklaces. Most of times the materials and beads are similar.
3. Multi Strand necklace with precious metals and beads
Especially when the boho chic style conquered the runways in the early 2000¨s, most precious jewelry was created in boho chic style. Multi Strand necklaces with silver pearls, in combination with colorful crystals and beads, crystals and semi-precious and precious charms accompanied the Hippie style Layer Necklaces. The boho chic style differentiates itself from the Hippie style over the use of materials.
How to wear Multi strand Necklaces:
Multi strand necklace are multi layered, but usually it is a one piece necklace. The layers are composed at different heights.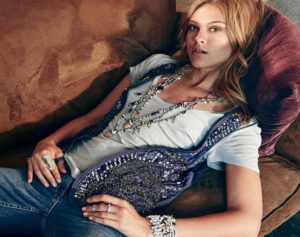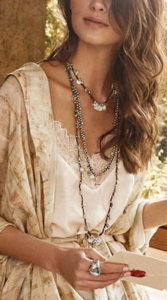 4. Mediterranean, Hawaiian or Caribbean styles influence designs, materials and colors
Styles and trends are transported to every corner of the world. The power of telecommunication facilitate the acceleration and the spreading. People discover local goods and trends and spread the word much faster. Every country has their treasures, individual styles, craftsmanship and goods. In Spain we are proud of the beautiful Mediterranean, Maritime and beach style inspired necklaces, made of precious shells, crystals or Mallorca pearls.
5. Spanish Boho chic style is influenced by people and Lifestyle 
Sealife transmits positive vibes and impacts people, culture, behavior, fashion and therefore also jewelry. Free spirited Surfer style jewelry is en vogue. Beach life Charms such as sea shells, starfishes, fish tails and corals are added to the maritime style bracelets and necklaces. Inspirations are drawn from the white beaches, dunes, vibrant coral reefs, and turquoise waters.
How to wear Ibiza and Surfer Style Necklaces?
These high quality Nautical necklaces with ocean charms, can be worn to beach wear, Tunics and Boho style dresses. The jewelry is not just only the perfect accessory while vacationing in one of the holiday resorts, but also for every day´s use. These yacht style jewelry will highlight your outfit and goes perfect to a jeans or casual dress.
6. Silver pendants, chunky coin Necklaces and bold charms support your hippy look 
Coins and charms are the basics and almost every jewelry store. Vintage coin necklaces with distinctive charms and links are a must for every bohemian festival. Silver charm necklaces can be worn on the elegant side, but depending on kind and style they are great for layering to create a more eccentric look.
How to wear Silver Coin Statement Necklaces?
There are different kind of Silver coin necklaces. On one hand, there is the coin necklace with the small, not vivacious necklace, which is used more for a discrete, elegant look, on the other hand there is the flamboyant silver coin statement necklace, which calls for attention and is a great conversation starter. People become interested in the make and originality of the necklace.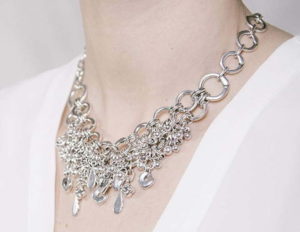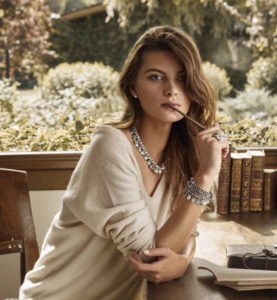 7. Gypsy inspired tribal necklaces
Ethnic inspired necklaces are particularly popular. Their heritage lies in the gypsy fashion style and combined with their colorful look. They are not for the Mainstream, but for the unconventional individual. The tribal look may be polarizing and the tribal statement necklaces provocative
How to wear Tribal Statement Necklaces?
The tribal look may be polarizing and the tribal statement necklaces provocative. It is a distinctive style for non conventional individuals. Most of the time you would wear it with informal cloth and jeans wear.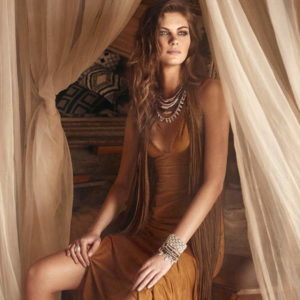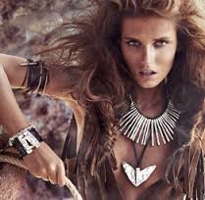 8. What are Boho Chic Choker Necklace and how to wear them?
Choker necklaces are also called "neck huggers" because they are placed tight around the neck. Chokers are made of several materials, whereas most common are leather and silver styles. Choker necklaces are avant-garde and can be worn casual and in an elegant manner.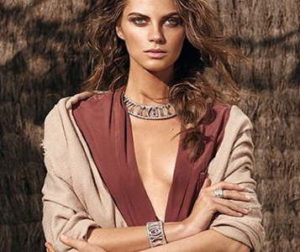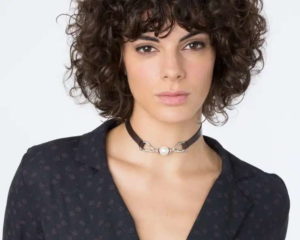 9. Artistic Art Deco style Statement Necklaces for the Fashion Individual
By nature boho style fashion lovers look for something distinctive. Their way of wearing and selecting cloth and accessories is different, somewhat eclectic. UNOde50 offers artistic Statement necklaces. These Art Deco Necklaces are unique and bold.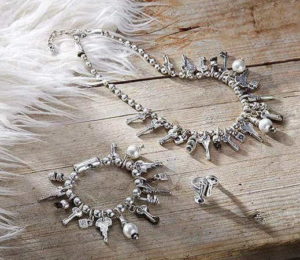 10. Animal inspired Necklaces gives you encouraging boho vibes
Almost everyone loves animals, which usually transmit positive spirits. An animal statement pendant could be your favorite find, symbolizing a lucky charm and bringing joy into your life. Transmit your feelings…..
The Dragonfly necklace is one of the pendants, which spreads this boho vibe, as long as you believe in it. Get your animal statement necklace.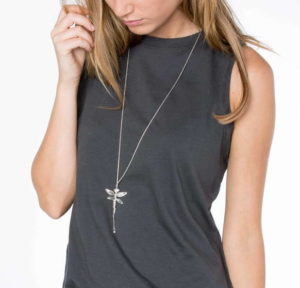 11. Boho chic bracelets are a must have to pair with your bohemian look
Very typical is a multitude of layered bangles, stacked up on your wrist. What would be Boho chic without colors? It can be a multi strand bracelet with vibrant colors, such as the Hippie Chic or Bresilien Style bracelets. The posh version of boho chic bracelets can be found in a refreshing Mediterranean pearl bracelet or in a multi color crystal bracelet. A Surfer bracelet may be a cool complement to your nature loving outfit. And, do not forget the lucky charm bracelet. They will bring joy and happiness. Get an Ibiza Surfer bracelet, since Ibiza portrays the colorful, modern life style with which we associate with typical bohemian aesthetic.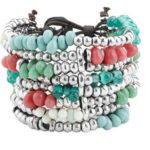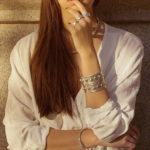 12. Feel naturally through Bohemian dangling earrings
Boho inspired earrings are usually nature inspired and colorful, perfect in combination with the fancy dress style. Other stylish earrings are also used to complement the Boho chic Look, it can be in form of original statement earrings, with dangling charms, such as figures or sea inspired pieces.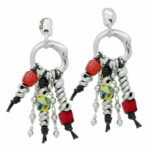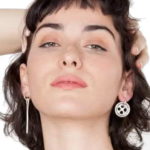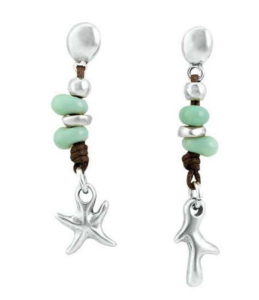 13. Boho chic bags
One important elements of a complete Boho outfit is a bag. Typical for the boho bag style is the fringe bag, but there are wonderful boho style bags on the market with vibrant colors,  bohemian details and superb designs.
Hippy and chic are Wayuu Bags, handmade by women from the Wayuu tribe, located in striking desert of the la Guajira Peninsula of Colombia y Venezuela. One bag with extensive patterns takes around 20 days to weave and is one of a kind. By purchasing a Wayuu bag you are helping sustain the economic growth of the Wayuu tribe.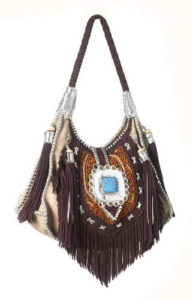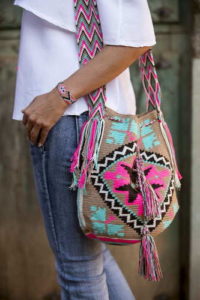 14. Free Spirit Boho Chic Sunglasses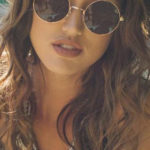 Sunglasses are on the rise again , considering the new stores which are popping up. Sunglasses became very chic in the Hippie era, with the big rounded styles.
Yoko Ono y John Lennon were one of the most important influencers and trendsetters. Sunglasses are an essential accessory for the daily look.
Hope you enjoyed the reading and thanks to the gypsies and hippies which made this style possible!