Boho Chic and Hippie Chic - The origin and what is the difference?
We all wonder where the boho chic style comes from? The transformation from the bohemian homeless robe to the celebrity look was shaped by events and people. The hippie movement, the punk and grunch styles of the 90s, were decisive happenings in setting trends. Artists, musicians, actresses, models and designers were the trendsetters of that time.
What is hippie chic?
Interesting aspects of bohemian fashion trends have come to light, while searching for information about the boho-chic style. According to Wikipedia, BoHo is an abbreviation for Bohemian homeless, while the word "chic" is the French translation for elegance. This implies, that the bohemian non-conventional, free, gypsy and natural, spirited lifestyle was mixed with the elegance of the conventional, the traditional.
How did evolve this style? The hippie culture developed in the 1960¨s, seventies or even earlier. It started in California, where we associate the hippie movement to bright flower printed patterns, patchwork fashion, people with sandals and long hair, music concerts and free life style. We all remember nostalgically the flower pattern of the painted cars, especially the Volkswagen beetle.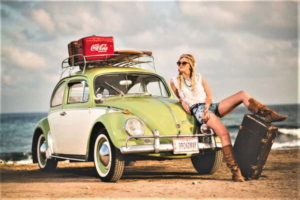 What is Boho Chic?
The style evolved in New York in the early 2000¨s and made popular by actresses and fashion models, who brought it to the fashion runways. The style is containing elements of the Hippie style. Nature, fabrics and appearal inspired the Boho style. Loose, soft and flowing clothing, more high quality fabrics, vintage and ethnic-inspired accessories, long natural hair and unquestionably big sunglasses. The progressive Hipster gypsy look was then in vogue. These days we include lots of tendencies into the new fashionable style.
What is the Difference between Hippie Chic and Boho Chic?
The user "ninaswim" on Pinterest had a very simple answer for the difference between Boho chic and Hippie Chic: "The difference between Boho Chic and Hippie Chic is that hippies can not afford boho styled goods". There is not real answer, but I would say that Boho Chic incorporates more craftsmanship and higher quality materials, whereas the Hippies used more natural beads and fabrics.
The boho style became huge on social media. Among the blogs, Facebook and Instagram posts, the boho chic style is one of the most sought topics. It guarantees a large number of "followers", which of course brings with it commercialization. The "new" lifestyle is celebrated by countless promotions in the areas of fashion, jewelry and home decor.