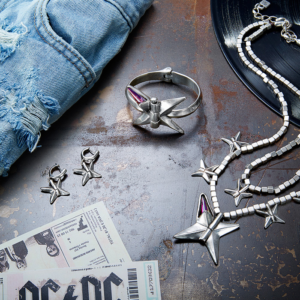 In jewellery fashion the sophistication of the 1980s is back. Bangles, necklaces, rings reach size XXL. It can never be big enough. After the epoch of minimalism, delicate rings and fine chains, the real statement pieces are taking over. There is again "bigger is better". The spanish jewellery company UNOde50 is celebrating, successfully the creation of original statement jewellery since 20 years. Season for season jewels are becoming more and more exuberant and opulent.
Play the muscles properly!
Statement jewellery is inspired by history, films, pop stars and fantasies of designers. Look at the theatrical jewellery works of Thierry Mugler from the 1980's, or the jewellery Madonna or other pop stars have worn or are wearing. Designers get their inspiration from their surroundings, Bicycle chains or other tools from the neighbors repair shop serve as a template for jewels. Fashion houses such as Loewe, Chanel and Balmain put their models enormous chokers around their necks, or just look at the TV anchors….This fall, massive Jewellery is en vogue as it was in the 80's.